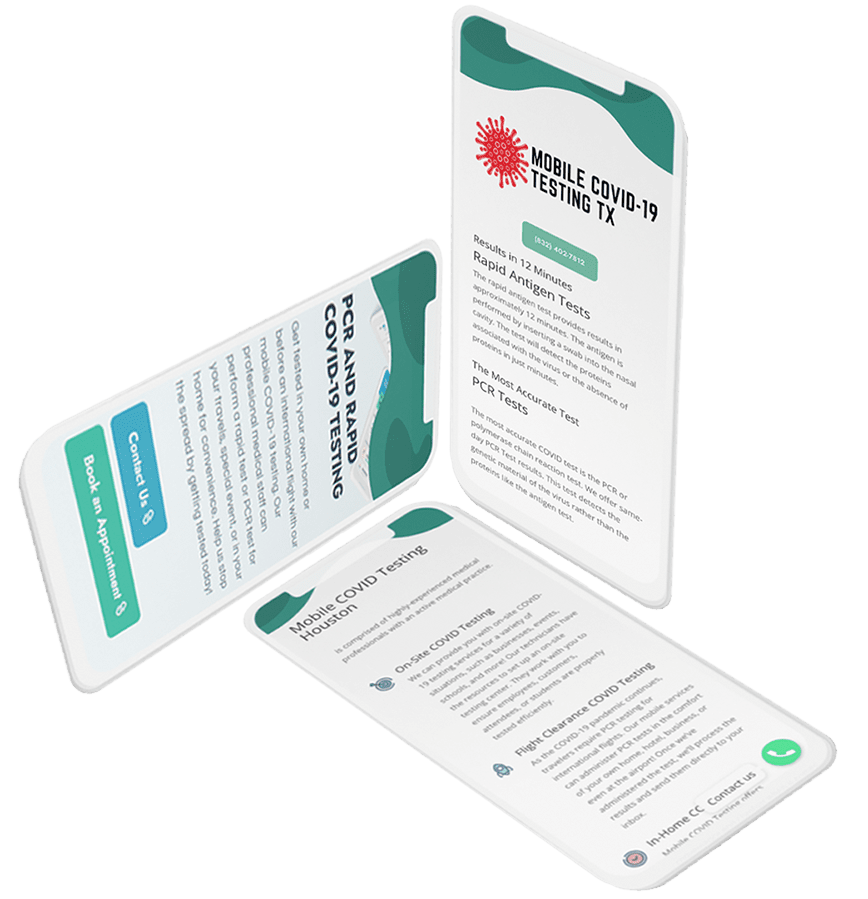 PCR and Rapid COVID-19 Testing
Get tested in your own home or before an international flight with our mobile COVID-19 testing. Our professional medical staff can perform a rapid test or PCR test for your travels, special event, or in your home for convenience. Help us stop the spread by getting tested today!
Results in 12 Minutes
Rapid Antigen Tests
The rapid antigen test provides results in approximately 12 minutes. The antigen is performed by inserting a swab into the nasal cavity. The test will detect the proteins associated with the virus or the absence of proteins in just minutes.
The Most Accurate Test
PCR Tests
The most accurate COVID test is the PCR or polymerase chain reaction test. We offer same-day PCR Test results. This test detects the genetic material of the virus rather than the proteins like the antigen test.
COVID Testing Houston
Testing Options
Mobile COVID Testing is able to provide PCR and rapid antigen tests in the comfort of your home, hotel, business, event, or even the airport. Call our team to receive 24-hour COVID testing services for your next flight, event, workday, or school day.
Learn More About Houston Airport COVID Testing
Mobile COVID Testing is able to perform flight clearance testing before your international flight. Get in touch with our team for PCR and rapid antigen testing. We are happy to provide Houston airport COVID testing at your convenience.
Mobile COVID Testing Houston
is comprised of highly-experienced medical professionals with an active medical practice.

On-Site COVID Testing
We can provide you with on-site COVID-19 testing services for a variety of situations, such as businesses, events, schools, and more! Our technicians have the resources to set up an on-site testing center. They work with you to ensure employees, customers, attendees, or students are properly tested efficiently.

Flight Clearance COVID Testing
As the COVID-19 pandemic continues, travelers require PCR testing for international flights. Our mobile services can administer PCR tests in the comfort of your own home, hotel, business, or even at the airport! Once we've administered the test, we'll process the results and send them directly to your inbox.

In-Home COVID Testing
Mobile COVID Testing offers convenience and comfort when it comes to PCR and rapid antigen COVID testing. You never have to leave the safety of your home to get tested. Give us a call or schedule an appointment alone to get tested on your doorstep. You'll receive your COVID results in a time relative to your test type.

Business COVID Testing
COVID-19 testing services are essential for your business as it helps keep employees working and customers attracted to the establishment. Our on-site COVID testing services will prevent massive downtime in your business and help you continue business operations as normal.

Event COVID Testing
Protect your attendees, employees, and VIP with on-site COVID testing. Our team will make it easy for your guests to get PCR test by setting up walk-through or drive-through lines outside or inside the venue. We make sure to separate tested guests from arriving guests until we get results.

School COVID Testing
Students and teachers deserve to interact in an educational environment without worrying about their health and safety. On-site COVID-19 testing helps prevent outbreaks amongst your students, keeping them in school for longer. We are happy to adjust to our clients' needs and wants.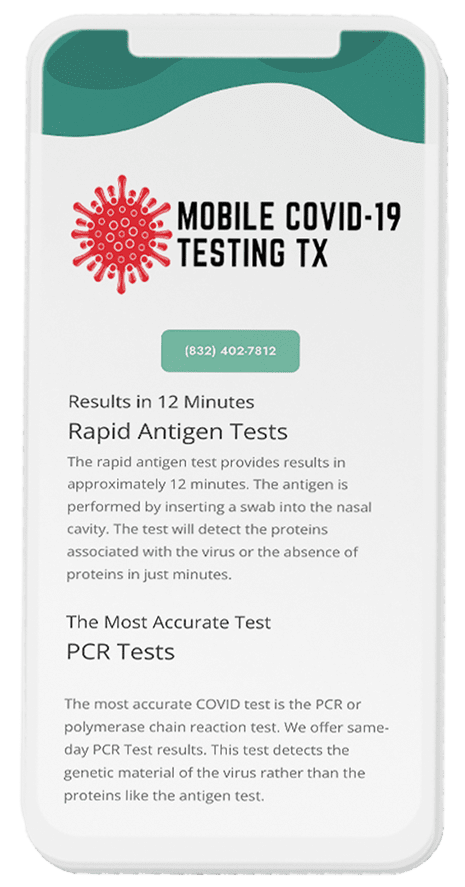 A PCR Test and Rapid Antigen Test take little time to administer and provide may benefits for your home or business. Here are some reasons as to why you should choose Mobile COVID Testing Houston:

1. Available 24/7
You never have to worry about the time of day as we can provide COVID-19 testing services 24/7.

2. Multiple Ways of Testing
There are many ways of getting tested by our team: in-home, on-site, at events, at the airport, etc.

3. Safety and Effeciency
Our testing technicians wear gloves and masks for your safety and deliver results to your email.
What Our Clients Have To Say

"I used Mobile COVID Testing Houston's services because they are so convenient. They came right to my home to perform the test and I got results two days after. "

"I use Mobile COVID Testing for my family and my business. Their medical staff is very professional and their PCR tests are accurate and on time. We received our results in less than 24 hours."

We definitely will contact these guys again for any future Covid testing and recommend this service to our family and friends.
A LEADER IN COVID-19 TESTING
We are a leader in COVID testing, offering mobile and on-site services for individuals and organizations.
Do you offer long-term COVID testing for organizations?
Yes! We are happy to offer long-term contractors to businesses, venues, schools, and other Houston organizations.
How quickly can I get my PCR test results?
Our team can provide PCR test results in 24 hours.
How much space do your technicians needs to test people?
We need very little space to administer tests. Our team can always set up outside in parking lots or in the corner of a lobby. We are very adaptable in the spaces we can test people.
What types of tests can you administer on site?
We offer two types of tests for on-site COVID testing: rapid antigen and PCR tests. Rapid antigen tests are the most suitable as they offer fast and reliable results.
Are your technicians experienced?
Yes! All of our technicians have been appropriately trained in administering COVID-19 tests. Some of them even have backgrounds in the healthcare and medical industries.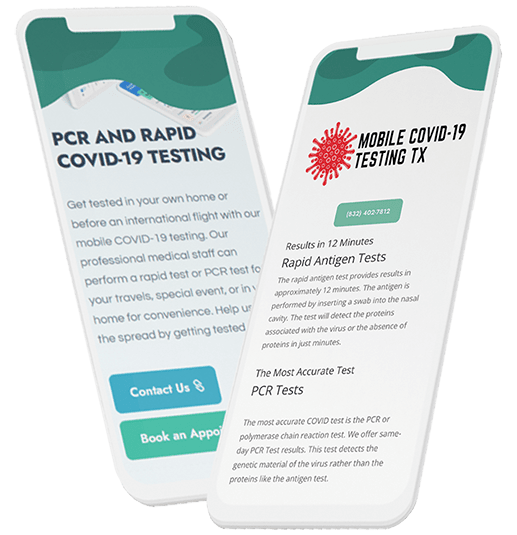 Contact Us or Book and Appointment
Get in touch with our team for PCR tests or rapid antigen testing in Greater Houston. We are available 24/7!